What makes you happy?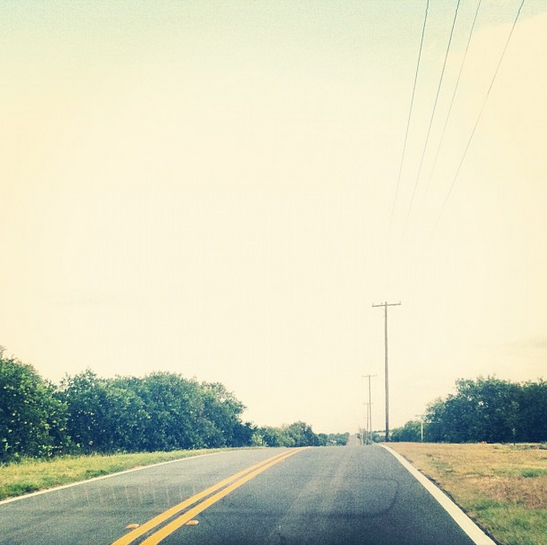 "Well, what makes you happy?" As I stared at my blank ceiling these words kept replaying in my mind as I rested my head on my pillow last night. Who would have thought that a simple question composed of 5 simple words would have caused me to lose sleep two nights in a row now. Not because I can't answer the question, but because stills of memories make me delirious with a sad nostalgia.
"Just scream, Ashley!" Riding in the back of a white Chevy Silverado over the Sunshine Skyway Bridge with the Florida sun still burning my cheeks well past sunset. The smell of salt water lingered on our clothes and our hands were still sore from breaking lines free.  "No!" "Just do it! No one can hear you! It feels amazing." And with a squeeze of my elbow I screamed until I laughed.
"What do you want to do today?" "Nothing." "Okay." Sitting on porch swings with watermelon and our tajin to sprinkle on that sweet summer treat. Bare feet tapping away as someone hums the latest summer melody. The sun has set the sky ablaze and there's a perfect reflection on the lake.
"I bet you can't make it." "Okay." Then with the most gentle, yet quickest shot I had seen in quite awhile. . .he made it.  There was one less striped ball on the table and my solids were still scattered around.  Shoot. . .then he missed.  "Your turn." "Okay, but you know I can't play." I slide the cue between my fingers and pointed tapped the corner pocket.  One in.  Two in.  Three in. Four in. I shot the fifth just a little too hard.  "And, you've never played?"  "No, I didn't say that.  I only said that I never played in Charleston.
"Let's go for a drive." "To where?" "Just down the road." Rolling the windows down and letting the wind follow his engine's lead. We simply drove.  Past rows of orange groves.  By acres of green pasture. Between tall pines and the occasional red dirt road.  He grabbed my hand - not in a "I have a crush on you" way but in a "This is the last time we're going to actually be friends" kind of way - and I squeezed back.
Yes, we should live in the present and dwell on the moment at hand. . .yet, I must admit that memories are what make me happy.