My Beautiful Diamonds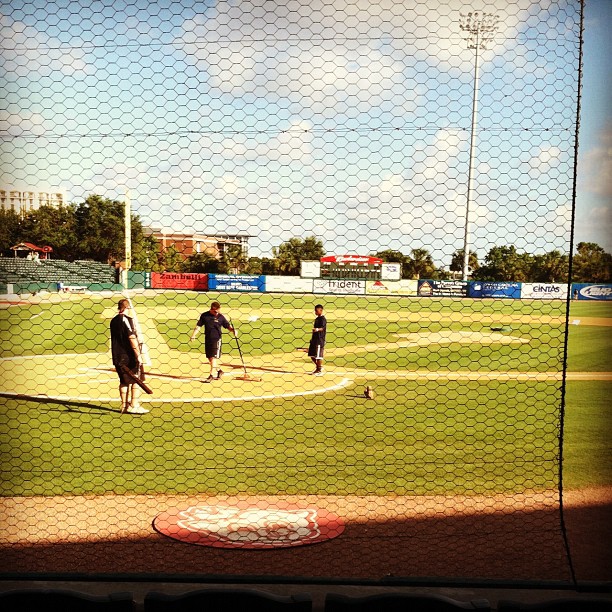 It was a 1996 July summer afternoon at my family's town home (my first home) in Wauchula, Florida.  I'm not sure where everyone else was as I sat on our brown carpet perfectly aligned with the big television set that had only a limited number of channels – most of which became snow when the antenna wasn't set up correctly – with my legs crossed and arms propping up my head as a deep, but friendly booming voice alerted me that I was about to watch the "Same Game, New Attitude." It Was Fate
Before I could pop up and change the channel – no remotes around there – the Major League Baseball logo flickered onto the screen and then I saw the first diamond I ever fell in love with: the Pittsburgh Pirates' Three Rivers Stadium.  Oh, and their opponent that day?  The Florida Marlins (I only remember this detail because of their insanely flamboyant teal – which I will always love).  I was only 6, but the more I think of it. . .the more I realize it was fate that led me to hesitate on changing the channel that afternoon. C'mon now. . .diamonds and Marlins baseball?  Fate.
Over the next 2.5 hours I watched as the Pirates lost to the Marlins.  I had no allegiance to a team, yet, but I knew I lived in Florida and that was all I needed to be convinced that I was happy about the outcome.
Diamonds, This Girl's Best Friend
Before that afternoon I, of course, had been exposed to a baseball, bat and glove by my brother.  I mean, after all he did occasionally remind me that it would have been a bit better if I were a boy, so we could play catch.  But, a diamond like that one?  With it's diagonal grass lines. . .deep red clay that provided a perfect frame for the game. . .the white lines that determined whether a player just got a homerun or a jog back to home. . .it was beautiful.  Now, of course, Three Rivers doesn't compare to many of the diamonds I have seen since then, but at 6 years old it could have been where the baseball gods lived for all I knew.
Since then I have yet to find a diamond that glistens in a jewelry store that makes me smile the way any baseball diamond can.  Lately, I've been spending some weekend afternoons at high school baseball fields for a friend's rec league games.  No matter how beaten up a field looks. . .it's still my favorite place to be on a summer afternoon or evening.  No matter the teams or scores. . .it's still the best escape from the real world.
Love Ain't Easy
Have you ever heard the quote that baseball was "designed to break your heart" by A. Bartlett Giamatti?  When I first read his lines I felt like someone finally understood how I felt.  Over the last 16 years I have fallen hopelessly in love with baseball and there is no going back.
Every spring I sigh a breath of relief when I see 0-0 next to each team's name.  My heart is light with excitement and hopes for a championship for my Florida Miami Marlins.  The stats of my players are wiped clean.  It's time to break out the old hat you've worn for the last 3 years each game day (new apparel is saved for logo changes in my book).  The rosin bag awaits to release it's dust.  The seams on a ball wait to be caressed. The bat can't wait to steal a kiss from the bat.  And the mitt patiently waits to embrace whatever flies its way.  Isn't it romantic?
Then it happens. A 3-game losing streak. 6-games now.  Your best performing slugger gets hit in the hand with a fastball and he's out for a month.  Your ace overthrows and he's out for 2 months. All-Star breaks finally arrives.  You welcome the second half and the optimism begins to grow.  Your team looks healthy again.  July ends on a high. It's time to break out the charts and calculators. Just 3 games behind in the Wild Card and 6 in the Division.  There's still hope!  4-game winning streak. 2 for 3 against your biggest rivals who just happen to be in first. So close! The air cools.  The days begin to become shorter, but that doesn't mess with your attitude! A split 4-game series with a division rival.  That's okay. Still in the Wildcard race! One loss.  Two wins.  Another loss.  And, another. And it ends. . .4 games out and only 3 left to play.
You tear up.  Well, I do at least (and, just so you know, this is a place of no judgement!).  You turn off the television.  You refuse to watch the MLB Network over breakfast.  ESPN is nonexistent for a few days.  You trade in your cap for a hoodie as the nights become cooler.
It's over.
It's like a break up from your high school love.  Except it's worse. It more like your love just broke up with you when it was all going perfectly.  You know that if they coming knocking on your door again. . .you'll just take them back because that's what love is.  It ain't easy, but even if you get them for a few more months, it'll be worth it. . .after all this might be the year one.
That's baseball, my friends.  At least, I get to keep the diamonds..